Feeling Swamped? 5 steps to recover from life's storms- Part 2 in 2 Part Series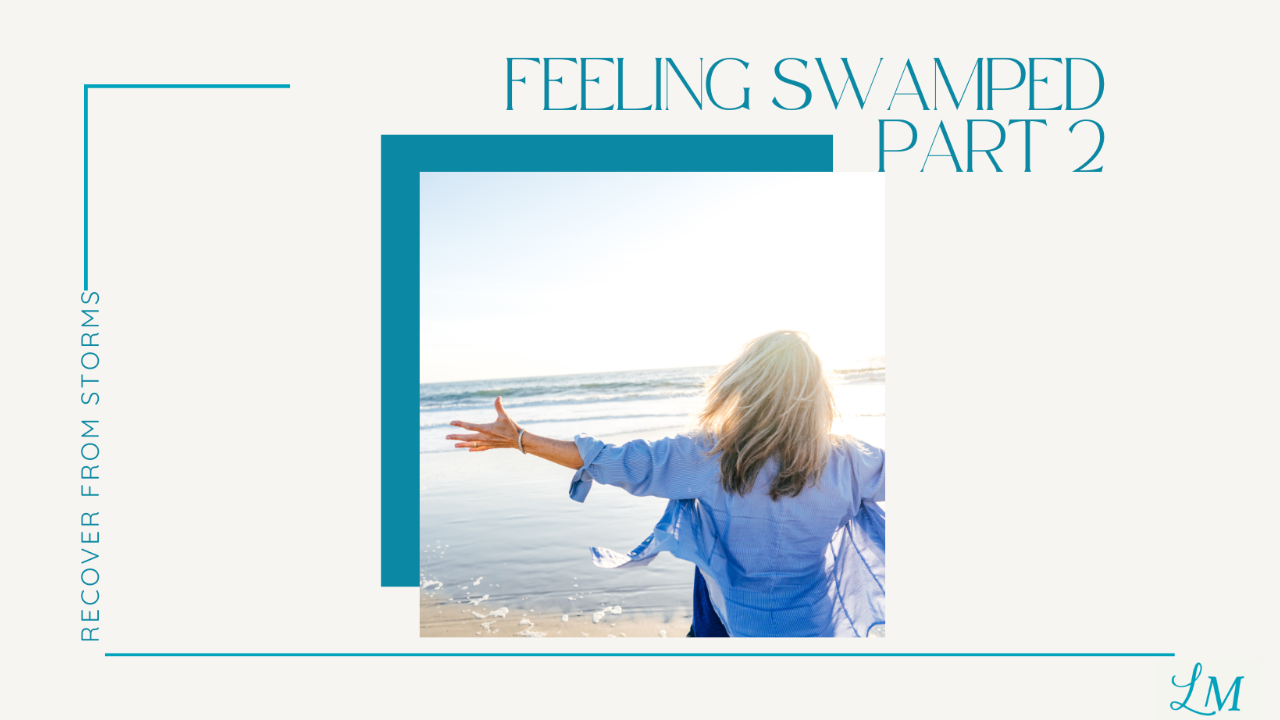 This is the second post in a 2-part blog series. To read part 1 with steps 1 & 2 first, go here.
3. Clear out the clutter
This is where it starts to get real. You may think it's over once the storm has passed, but there is still work to be done. Floods cause a lot of damage to a home, from drenched belongings to warped floors and the risk of mold growing in your home. You have to clear out the damage before you can do anything else. If your house floods, you need to pull up the carpet or flooring and let everything dry. Sometimes you have to repair the walls by ripping out the drywall – all the way down to the studs.
The same is true with your personal storms. Being swamped with chronic or acute stress causes damage to your body and mind (your "other home"). So how do you clear out the damage? You need to get rid of old habits and clear out the stress and trauma. How? This step takes some serious soul-searching. Do you have a habit that keeps you stuck in the cycle of stress and overwhelm? Do you hold onto the story of a recent trauma and tell it in the same way over and over again?
If so, start by noticing the habit or story that you repeat over and over again. Take a deep breath in. As you breathe out, let go of the habit or story with your exhale. It won't be long before you notice the habit creep back into your mind. When it does, notice it. Take another deep breathe in and let it all go with the exhale. Every time you notice that the old thought has returned, repeat this step. This will help you to clear out the clutter in your mind. Once you recognize and remove the damage, then you can make repairs and room for something new.
4. Recover and repair
Once you have cleared out the damage, then you are able to fix things that are broken and replace things that were ruined in the flood. In your home, this is a very tangible process of picking out new flooring, installing new drywall and putting on a fresh coat of paint.
How do you want your thoughts, your days and your life to look now that you have stripped away the old habits? This is a great time to imagine how you want your life to look. Take time to rest, pray and dream.
If there was a particular habit that kept you in a cycle of stress, how do you change it so you can find a new groove of serenity? Is there a hobby or self care activity that you have always wanted to do? Maybe you played a musical instrument or dabbled with art or enjoyed a sport when you were younger. Have you always wanted to get back to it? Now is the time. Build a new habit into your life.
5. Start fresh.
Now that you have an idea, make a plan and do it! It's time to start fresh. Keep it simple. Set aside 10 minutes a day to practice your new habit or self care activity. See what it feels like to live with this new habit or new way of thinking. It can be exciting and strange to adjust to changes in your surroundings. It's the same with your mind. It may help to keep a journal next to you and take note of the changes that you notice throughout the day. Every day is a new day to start fresh, even if you get caught up in another storm (because we all do sometimes). Remember that person that you reached out to for support? Share your new habit with her and let her continue to support you. As you continue to take care of yourself, you'll notice that you can find a sense of calm whether you are standing in the eye of a storm or walking down a beach as the sun sets.